Heavy Equipment
Rental Services in Texas
Real Rentals is a heavy equipment rental company in Leakey, Texas. We are certified STIHL dealers, Exmark dealers, and interstate battery dealers. We have on-site mechanics and do outside repair as well. We handle anything from lawn mower repair to heavy equipment repair.
We have been serving in Leakey, Texas and surrounding areas for over 12 years.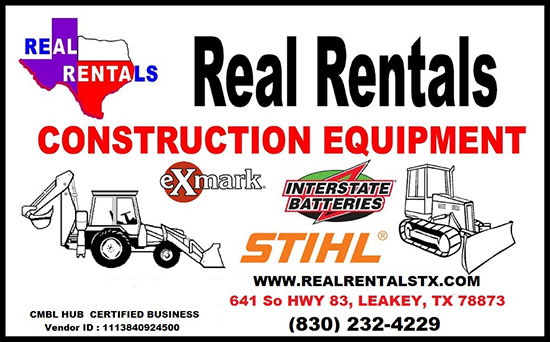 At Real Rentals, we have the broadest selection of premium rental equipment with high-standards.
We ensure to provide the services when you need at affordable pricing. We make sure our equipment performs as promised and deliver unsurpassed customer services.
One-stop Platform for Tools
We are committed to providing one-stop access to products, tools, and services. With our expertise, our team strives to help you increase your productivity and manage equipment more efficiently.

This place is top notch! Fair prices and more than willing to help guide you to the right equipment.. just like everywhere else if you walk in with a good attitude you will get treated with a good attitude!
Connor Petersen
5 Stars

I have been renting equipment from Real Rental for several years now . I've had nothing but good business dealings with them. I still continue, to rent equipment from the Leakey location.
Darrel Whitten
4 Stars

Close and just right for the job.
Nolan Fontenot
5 Stars